Dog owners can recognize their own dog in a whole pack of other dogs of the same breed; for example,  you might think that all huskies look the same –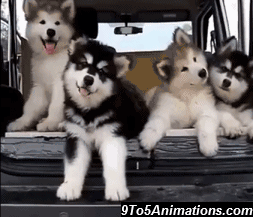 But I know what MY dog looks like!
THIS DOG, though – WHO IS THIS DOG!!
Not only does that dog have a human face – which is super-creepy – but he looks like certain humans, according to the Internet:
Nicholas Cage!
Topher Grace!
Jake Gyllenhaal!
Tobey Maguire!
But … Zach Galifianakis  gets my vote!
© 2018 Global News, a division of Corus Entertainment Inc.