A DAY TO LISTEN 2022:
MESSAGES OF HOPE
6am – 6pm local time, Friday, September 30 on radio stations across Canada
In recognition of National Day for Truth and Reconciliation, the Gord Downie & Chanie Wenjack Fund (DWF) is proud to partner once again with major media outlets and radio stations throughout Canada for A DAY TO LISTEN 2022.
This year's programming focuses on highlighting cultural reclamation, language resurgence, art practice, and land-based learning narratives. We aim to look at what we can do as a country as we move forward by highlighting and featuring Indigenous Peoples who are engaged, working, and living within the four streams and show how we can continue to move forward with hope for future generations of Indigenous and non-Indigenous people.
With more than 540 radio stations participating, spanning different markets, regions, and formats, A DAY TO LISTEN aims to leverage the power of radio to move reconciliation forward in meaningful ways.
The mission of DWF is to create a pathway towards reconciliation, and to improve the lives of Indigenous people by building awareness, education, and connections between all Canadians.  #dosomething
For more information, visit downiewenjack.ca
Listen LIVE on September 30th.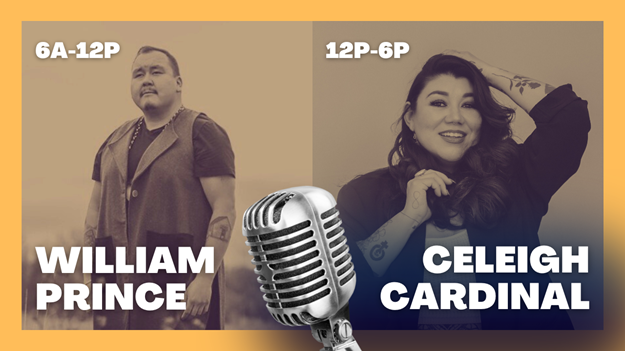 Based in Winnipeg, Manitoba, William Prince approaches the big questions with humility and curiosity, and his songwriting is a masterclass in skilful simplicity. Since his JUNO Award win in 2017, Prince's momentum has continued to build, with each new album adding depth and dimension to an exceptional body of work that has received international acclaim. From national network television appearances, top tier media coverage and performances at major international festivals, William Prince has become one of the country's most respected and celebrated songwriters. Find out more about William Prince and follow him on socials here: https://www.williamprincemusic.com.
With a confident voice and boundless energy, Celeigh Cardinal (pronounced "Cay-ley") owns a stage, connecting deeply with her audience through humour, passion and love. In 2020, Edmonton, Alberta-based Cardinal was awarded one of Canada's highest musical accolades: the JUNO Award for Indigenous Artist of the Year. Cardinal has two full-length albums out with her third release in the works. Celeigh is quickly becoming one of the great Canadian voices that make up the fabric of this country's roots music scene. Find out more about Celeigh Cardinal and follow her on socials here: https://www.celeighcardinal.com/